Okt 10 2020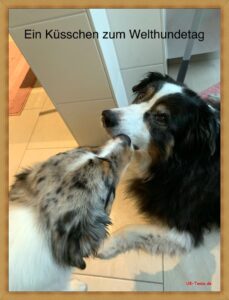 Was ist Glück? Glück ist… seinen Hund zu umarmen
und die Nase in sein Fell zu kuscheln.Glück ist… neben seinem Hund im Gras zu liegen
und andächtig in den Sonnenuntergang zu schauen. Glück ist… in dem Blick seines Hundes zu versinken.
Glück ist… wenn vier Augen mehr sehen, vier Ohren mehr hören, sechs Beine weiter laufen und
zwei Herzen doppelt lieben können. Glücklich also ist der Mensch, der in der Lage ist, die
uneingeschränkte Liebe seines Hundes zu erwidern.
(Renate Rothe)
Visits: 481
Leave a Reply
You must be logged in to post a comment.